Well, if you've been visiting each day this week, you've seen all five of the new October releases from
MHK Designs
. Today, our new challenge starts and we have a beautiful Inspiration Photo for our theme. You can find that photo on the MHK Designs blog or look at the bottom of this post, next to the photo of the Chicken In set. Remember, you are not required to use an MHK Designs image on your card but if you do, then the challenge theme is "Anything Goes" and you need not use anything from the inspiration photo.
This image is the second one from the newly released set, "
Chicken In
." The other ones are the Rooster and the Chicken Wire I used earlier this week. I colored it with chalks and ProMarkers, the cut it with a die from Spellbinders.
The dp is also from an MHK Designs set, called "
Holly Days
." In order to get that look, I reduced the height of the paper and lengthened the width slightly, in essence squashing and stretching it. This is a relatively new technique for me and I love the way the pattern looks. I've adjusted the size of digital dp before but always kept the ratio of height and width; never before have I squashed and stretched it. I've just found a new reason to love digital dp. :-D The digital paper was printed onto a scrap of white CS, then I punched the corners with a Fiskars punch. The sentiment was also printed on a scrap but it was hand cut and matted with another scrap.
The ribbon was 'reclaimed' from another project which was headed for the trash can and I think it is a perfect complement for the dp and coloring. The sentiment is also from Chicken In set.
Challenges:
Petal Lu
Pixie's Snippets
This is my second and last post for today but I hope we're going to see you playing in our challenge this month. It will run until the 15th of November so you still have almost 3 1/2 weeks to get an entry in. Happy Stamping.
NanaConnie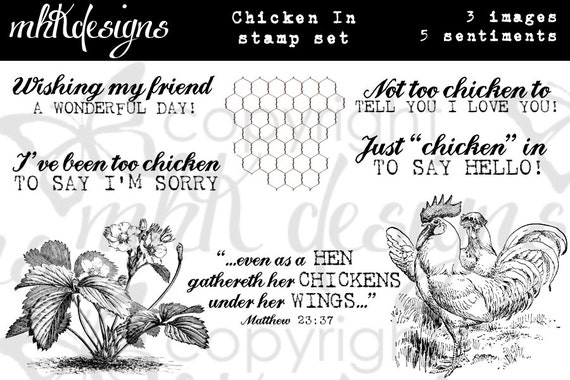 "Chicken In"