Hello, and welcome to our SURPRISE Birthday Beach Blog Hop for the lovely Asha! You should have arrived here from
MYNN KITCHEN's
blog. If not, start at the
MHKDesigns
blog to complete the hop for more chances to WIN ! We are celebrating a very special lady today, and we're doing so by creating beachy birthday cards to wish her many happy returns!
Here's our Inspiration Photo for this challenge which runs from June 21 to July 17.


And here's my card using the Anchor from the "Serene Seaside" set available at
MHK Designs
.
I originally intended this for a Father's Day card but realized it would
also make a great birthday card for either gender. So, Happy Birthday, Asha !
The personal greeting is on the inside.
I used my ProMarkers to color the anchor and then cut it with a stitched scalloped circle die from Memory Box. The plain circle is done with a die from Spellbinders. I used a Darice embossing folder on the blue diamond and the brown CS strip.
The ribbon is from my stash and the 'bow-tie' bow was made using yellow satin ribbon. The sentiment is from the set, also die cut with a (Memory Box) stitched die and matted with a small circle (Spellbinders.)
Challenges:
Thank you so much for joining in our hop to say "Happy Birthday" to a dear friend! Your next stop on the hop is
ROCKY CRAFTER
's blog!
Happy Stamping.
NanaConnie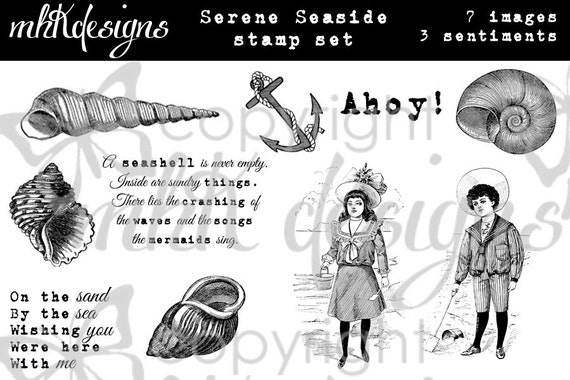 Serene Seaside
Please continue to leave comments. The "Word Verification" really isn't on. BLOGGER INSISTS ON SHOWING THE "CAPTCHA" ICON BUT IF YOU IGNORE IT AND JUST PUBLISH YOUR COMMENT, IT WILL POST JUST FINE. I WISH I COULD GET RID OF IT BUT THERE'S NO OPTION FOR THAT WHEN THE COMMENTS ARE WRITTEN IN A SEPARATE BOX. SORRY.