Birdie is now and always has been one of my favorite characters from
Doodle Pantry
. This month, Laurie is releasing a brand new version of Birdie in the "St. Nick Birdie" set. This is the first time I've used him because he's so new. There were lots of choices among all the new releases this month, but who could resist Birdie?
I started with a pre-colored image, then added a little bit of yellow to the beak and feet, a tuch of gray to his beard, and added sparkle gel ink to the present he's holding. I die cut the image with a plain circle die from QuicKutz, then cut the mat one size larger. The mats for both the image and the sentiment (which is from the same set) were also die cut with dies from that QuicKutz set. The paper for the mats is from the "Just Nutty" set from last month's release.
The snowflakes were cut with dies from Spellbinders, which I've had forever and forget to use, even for winter cards. I cut one of each flake from white CS and another from blue CS, then stacked them with dimensional dots. I used two shades of blue chalk to color the snowflakes since stark white just didn't stand out from the background. I also added a bit of sparkle.
The little red bow with the pearl is one of those I make by hand, dozens at a time, and put into my stash so I can just reach and grab what I need.
Challenges:
Brown Sugar
Chalk-Ah-Lot
Christmas Card Challenges
Christmas Stampin' All Year Long
Completely Christmas
Craft-Dee BowZ
Crafty Hazelnut's
Incy Wincy
Not Just Cards
Ooh La La
Outlawz Coloring
Sister Act
Winter Wonderland
Here's a photo of the complete St. Nick Birdie set.
Don't forget the
October challenge
starts at 9:00 a.m. Eastern today and while you aren't required to use a Doodle Pantry image on your project, if you do use one, you'll get this "S'mores" set just for playing in the challenge.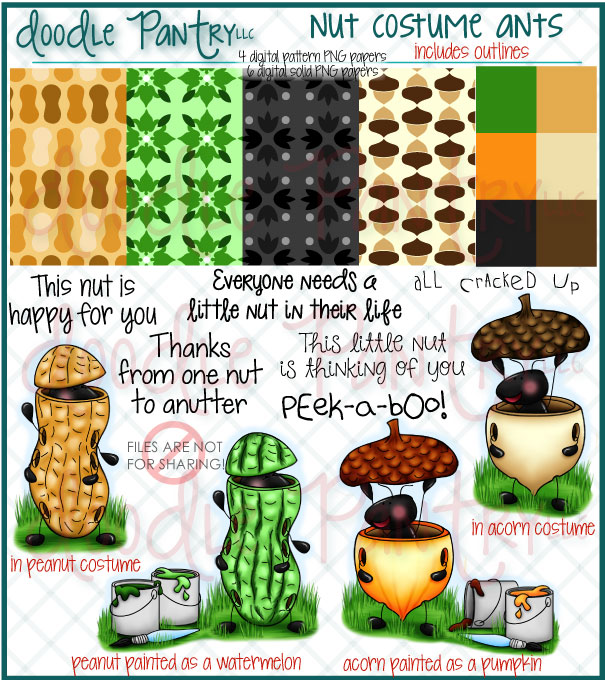 And this one is free with any purchase.
Happy Stamping.
NanaConnie